* TOTE converts MAN 58/64 Engines to Natural Gas
* Wessels Signs Letter of Intent for further conversions

The Maritime Energy Transition
The term 'Maritime Energy Transition' stems from the German expression 'Energiewende' and encapsulates MAN Diesel & Turbo's call to action to reduce emissions and establish natural gas as the fuel of choice in global shipping. It promotes a global 'turn to gas', driven by the IMO, and a common approach by the shipping industry and politics to invest in infrastructure development and retrofits.
Launched in 2016 after COP 21, the initiative has since found broad support within the shipping industry and German politics. Stemming from the success of the WES AMELIE project, and to encourage more shipowners to follow its example, the Augsburg based engine maker pledged a total discount of 2 million Euro for 10 such LNG-retrofits at the international Our Ocean 2017 conference in Malta recently.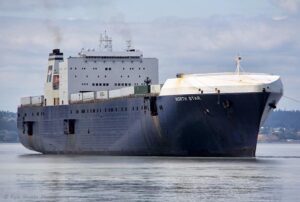 TOTE Maritime Alaska, a daughter company of TOTE Inc., recently contracted MAN PrimeServ – MAN Diesel & Turbo's after-sales division – to convert the NORTH STAR (IMO 9232280) and MIDNIGHT SUN (IMO 9232278) to dual-fuel operation on natural gas (NG). The two identical roll on/off ships, with length of 255 m and GT: 65.314, are each powered by 4 × medium speed, turbo charged MAN 9L58/64 engines, featuring each12.600 kW @ 400 rpm, and will be retrofitted to MAN 9L58/64 retrofit units. According to the engine maker the output per cylinder after the retrofitting to natural gas will remain the same as before.
The contract – signed in April 2017 and announced during the High Horsepower (HHP) Summit, a conference and expo on the use of natural gas – covers the design, development and testing of a first-of-its-kind dual-fuel kit, which will serve as foundation for the largest NG conversion in North America.
A key influence in TOTE's decision to retrofit the vessels to NG is to significantly reduce the most harmful emissions that result from burning diesel.
"TOTE Maritime Alaska is excited to convert its fleet to gas power which will result in a significant reduction in air emissions including particulate matter, sulphur oxide (SOx) and nitrogen oxide (NOx). This significant investment of time and money is a reflection of our commitment to the environment, our customers and the state of Alaska" noted Michael Noone, President of TOTE Maritime Alaska.
Dr. Thomas Spindler, Head of Upgrades & Retrofits at MAN PrimeServ Augsburg, explained: "To meet TOTE's requirements, we have developed a solution based on our well-proven 51/60DF retrofit. Accordingly, the engineering approach to the 58/64 retrofit is very familiar to us, and this project represents a straightforward conversion procedure."
Spindler added: "The investment will be of huge benefit to the customer on several fronts: not only will the retrofitted engines meet all new emission standards; the new components they receive during conversion will significantly extend their working life."
TOTE Maritime Puerto Rico, another TOTE company, is notable for ordering the world's first LNG-powered Marlin class container ships, the ISLA BELLA and PERLA DEL CARIBE, launched in 2015 and both featuring single MAN B&W 8L70ME-GI engines.
Wessels Reederei Germany
But it's not only Tote who converts existing MAN diesel engines for the use of natural gas in the near future.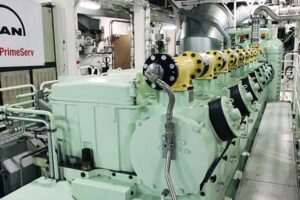 After having converted successfully the feeder vessel WES AMELIE, owned by German shipping company Wessels Reederei, based in Haren/Germany, Wessels signed a Letter of Intent for further natural gas conversions of three of its fleet to dual-fuel gas operation at the Europort 2017. 
The three ships are sisters to the WES AMELIE, a 1,036-TEU feeder container ship with an MAN 8L48/60B main engine that was retrofitted to a multi-fuel, four-stroke MAN 51/60DF unit earlier in 2017. The retrofit enables dual-fuel operation and was the first such conversion of its type the world has ever seen.
Stefan Eefting – Senior Vice President, MAN Diesel & Turbo and Head of MAN PrimeServ Diesel in Augsburg – said: "The Wes Amelie project was really a pioneering moment in the European container-feeder market and shows clearly that existing MAN engines can be converted to LNG operation with a tremendous effect on exhaust emissions and the environment."
Indeed, MAN Diesel & Turbo reports that the dual-fuel conversion has enabled the WES AMELIE to significantly reduce its SOx emissions by 99%, NOx by approximately 90%, and CO2 by up to 20%. The vessel now meets both the Tier II and Tier III emission requirements set by the International Maritime Organisation (IMO).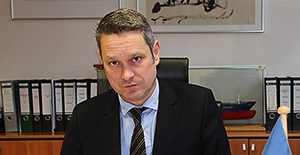 Eefting praised Wessels' cooperative spirit and concluded: "One of the key reasons the Wes Amelie was selected for conversion was its 'multiplier effect', that is, its many sister ships that would facilitate follow-up projects at reduced costs owing to the experiences gained from the first project. I believe the signing of this letter of intent validates our approach and points a realistic way towards decarbonisation and a climate-neutral shipping industry by 2050."
Multiplier effect
When selecting a suitable vessel for conversion, special attention is paid to the scalability of the engineering services as well as the development costs, reducing significantly the costs for follow-up projects. In this respect, the WES AMELIE has 23 sister ships, 16 of them structurally identical, which would allow follow-up projects to be easily implemented, facilitating a multiplier effect.