SCHOTTEL HYDRO provides Tidal Turbines
Over the last year a team of Indonesian and international specialists has worked in a remote part of Bintuni Bay, West Papua, Indonesia. The goal was to assess the local electricity situation, renewable energy options, including tidal in-stream power; and to then install a demonstration tidal turbine to support an isolated industrial island micro-grid. This project may act as a model for smaller scale energy developments in coastal areas throughout Southeast Asia.
The physical capacity of tidal energy worldwide has the potential to develop 337 GW of ocean energy by 2050 (source: IEA-OES Annual Report, 2015), with a deployment creation of estimated 300,000 direct jobs. With current technologies it is assumed that at least 60,000 MW of the resource are technically extractable. The world's population is steadily increasing, requiring more and more energy. The challenge is to generate this electricity in the cleanest possible way. The tidal energy provides a means of generating clean electricity by using the water current. Tidal energy is clean, local and infinite (in other words: no harmful emissions to the environment). Turbines placed in tidal currents will rotate and thus harness the tidal energy. The tidal industry is still in an early phase of development. Sites that are suitable for installing tidal devices are found all over the globe.
The project partners
Green Forest Product & Tech Pte. Ltd. (GFPT) and its exclusive supplier PT Bintuni Utama Murni Wood Industries (PT BUMWI), together with SCHOTTEL HYDRO, OceanPixel, Aquatera and the Energy Research Institute at Nanyang Technological University, Singapore (NTU Singapore) has successfully completed the first tidal turbine installation at PT BUMWI's woodchip factory located in the remote Pulau Amutu Besar, Bintuni Bay, West Papua, Indonesia.
Long-term objective is to favor available local natural resources
This pioneering initiative was initiated by GFPT and its key supplier PT BUMWI with the long-term objective to significantly reduce the dependency on fossil fuel while tapping on the available local natural resources. Assessment done by the team from OceanPixel and PT BUMWI indicated that tidal current near the site can run at up to 2.5 meters per second providing an ideal site for harnessing tidal energy. Diesel generators currently provide all of the electrical power for the wood chipping operation and supporting infrastructure.
International expertise helped finalizing the project in 12 months
An international team comprising OceanPixel, Energy Research Institute @ NTU (ERI@N), SCHOTTEL HYDRO from Germany as the provider of the tidal turbine, and marine energy operations specialists Aquatera from Scotland provided the expertise to enable this unique deployment. They worked alongside PT BUMWI resources that cover management, electrical, mechanical, fabrication and marine operations specialists. The integrated team successfully devised and executed a number of innovative approaches utilizing local resources whenever possible to enable the completion of the project in 12 months.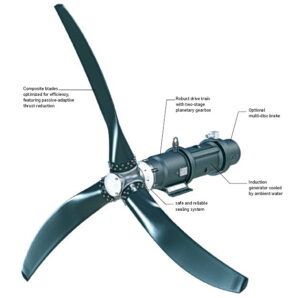 Turbine in a simple and robust arrangement
SCHOTTEL HYDROs SIT 250 turbine is suspended below a floating barge in a simple and robust arrangement which allows for straightforward inspection and maintenance. The cable is suspended in the air from driven piles, a method that suited local conditions and resources. Similar approaches can be easily replicated elsewhere with appropriate adaptations to local conditions, skills and supply chain resources. This first generation SIT 250 tidal turbine, with a capacity of about 130-250 MWh/a for one turbine at a tidal current of up to 2,5 m/s, was delivered by SCHOTTEL HYDRO to Indonesia and then onward to the site by PT BUMWI. The German specialist also plays a crucial role in engineering support for the successful integration of the turbine into the floating barge platform as well as the installation and commissioning of the turbine. "We are excited to be part of the first grid connected tidal turbine deployment in South East Asian waters," said Dr. Ralf Starzmann, Sales Director of SCHOTTEL HYDRO.
Extensive experience from previous projects
Aquatera provided the much needed expertise in marine turbine deployment, taking into account both the local assets and limitations as well as considering the broad lessons learned from previous work in tidal streams and remote operating locations. Dr. Gareth Davies of Aquatera added, "We wanted to make sure that the deployment process went safely and efficiently making maximum use of the local resources. All of these objectives were achieved. The operational strategy that has been developed can act as a model for other developments locally and in the wider region."
"Model for future deployments in Southeast Asia "
A substantial amount of system integration work was undertaken in Singapore to ensure the successful progression of the project from planning to deployment. Engineers and researchers from ERI@N supported the design work with a number of analyses which helped to confirm that the operating conditions and proposed equipment were compatible. Dr. Srikanth Narasimalu, Programme Director and Senior Scientist of Wind and Marine Renewables, ERI@N remarked that the present design demonstration is a simple way of deploying tidal turbine to reduce installation and maintenance cost through a semi-buoyant system due to its easy towable and deployment capability in optimal energy sites to power remote coastal locations. "We are grateful working with GFPT and SCHOTTEL HYDRO for this initiative and we believe that this project could become a model for future deployments in the region," he mentioned.
From a regional perspective, the ASEAN Centre for Energy (ACE) is encouraged to see the tidal turbine installation in West Papua, which promotes the use of marine renewables to de-carbonise energy supplies across the region. ACE—having made ERI@N its technical working group in driving ocean renewable projects, activities and events in Southeast Asia—feels that such initiative needs to be further explored. "Through demonstration projects like this, and continuous regional collaboration on marine renewable energy, Southeast Asia sees a promising future in advancing towards energy security and sustainable development," Dr. Sanjayan Velautham, ACE's Executive Director, concluded.