The vessel has been awarded a 2-year charter for Operations and Maintenance work at the offshore wind farm BARD Offshore 1, Germany.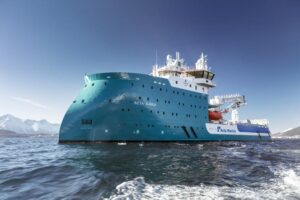 The SOV W2W vessel ACTA AURIGA, currently under construction at Ulstein Verft, Norway, has recently successfully completed her sea trials.
Acta Marine placed a contract with Ulstein Verft for the construction of a DP2 construction support vessel in January 2017. Ulstein Verft and CRIST S.A. jointly began the construction of the vessel's hull form in Poland in February 2017 and christened the same in September 2017. The finished hull was towed to the Ulstein Verft's facility in Ulsteinvik, Norway, in November 2017 for final outfitting and installation of mission equipment.
ACTA AURIGA is a new DP2 walk-to-work construction support vessel (CSV), is custom-designed for Acta Marine Offshore Services, with headquarter based in Den Helder, The Netherlands. The new CSV will support the construction, commissioning and maintenance of offshore wind farms.
Together with a 3D crane, SMST gangway and elevator tower, and the X-BOW and X-STERN design solutions, the vessel will break new grounds in workability, in-field agility, offshore logistics and comfort on board for 120 persons combined with low fuel consumption.
The SX195 type designed, 93.4m long and 18m wide vessel, with a deadweight of 2,600t at a design draught of 5.6m, is optimised for offshore wind. It has a large, centrally positioned SMST provided walk to work motion compensated gangway & elevator tower for personnel and cargo transfers.  And features further a 3D motion compensated SMST knuckle boom crane capable of 6-ton efficient cargo lifts. The optimised on-board logistics includes large storage capacities, of which half is under roof in a controlled environment, and stepless approach to the offshore installations. The vessel is equipped with a fuel-efficient Diesel-Electric drive system.
ACTA AURIGA CSV propulsion system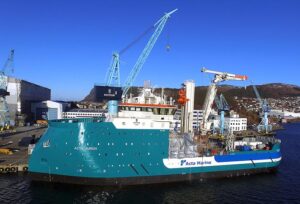 The power-plant integrates two 1,700ekW and two 940ekW main diesel generators, and a 200ekW emergency generator. The vessel is equipped with two 1,500kW @ 0 – 1,200 rpm stern thrusters, a 1,040kW @ 1,200 rpm tunnel thruster and two 880kW @ 1,800 rpm swing-up thrusters.
Important for such a workboat is the dynamic positioning system which consists of: DP2 system: 4x Operator stations, 3x Wind sensors as reference systems, 3x motion reference unit and 3x position reference system (2x DGPS + 1x CyScan)
In addition, a helideck is fitted. With all main equipment and operations in the aft ship, the vessel will naturally operate astern while in-field. Keeping the X-STERN® towards the weather, there will be no slamming, noise or vibrations caused by the waves. The crew will get complete rest between shifts.
All accommodation areas are designed with the primary focus that well rested personnel are productive personnel. ACTA AURIGA provides 80 cabins compliant with 'DNV Comfort Class level 2' for up to 120 people. Cabins and public spaces are furnished with high quality materials and features. In addition, the vessel offers a state of the art buffet style restaurant, multifunctional public area's and modern sauna and gym facilities. Smart Wi-Fi connectivity allows personnel to connect their own digital devices to internet and Video-on-Demand services from anywhere aboard.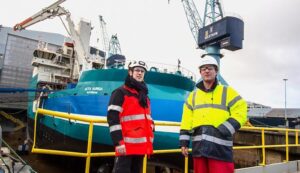 After having completed the most important tests on the trial, the onboard team reported that: "All of us from the Acta Marine team on board are very impressed with her performance, we look forward to start working with ACTA AURIGA!"
As part of the sea trials the vessel was tested at maximum forward and backward speed. Featuring the X-STERN's aftward speed exceeded 12.5 knots, underlining the excellent in-field agility of the vessel. The registered speed in forward mode exceeded 13.5 knots.
The noise and vibration level tests proved to be well within the limits of the high comfort class on this vessel.
The X-BOW features a tapered forward hull with a diverse volume distribution and sectional angles to create a wave-piercing effect at small wave heights. The design also minimises pitching and bow impact loads in higher seas.
The sharp stern shape of X-STERN design will allow the positioning of stern towards the weather instead of the bow. The hull shape will enable astern operations and increase comfort for the crew, by reducing slamming, noise and vibrations, enhancing the flexibility and operability during operations at offshore wind farms.
Classification
The newbuild has been classified by DNV-GL +1A SF, E0, Offshore Service Vessel, Walk 2 Work, Strengthened (DK, HA), DYNPOS (AUTR), CLEAN (DESIGN), COMF(C-2, V-2), NAUT(OC), BWM(T), BIS, SPS 2008.
Finishing works

The vessel, of Ulstein's SX195 design, has now returned to the construction yard for completion, before her delivery to Acta Marine which will take place probably in April 2018. The vessel has been awarded a 2-year charter for Operations and Maintenance work at the offshore wind farm BARD Offshore 1, Germany.
BARD Offshore 1
The first and currently most powerful offshore wind farm in Germany is completely connected to the grid since September 2013. 80 wind energy generators of the 5 megawatt class reach a nominal capacity of 400 megawatt – this equals the energy consumption of more than 400,000 households. The offshore wind farm BO1 is located approx. 100 km north of the isle of Borkum in the German North Sea and comprises an area of approximately 59 square kilometres.
Ocean Breeze Energy GmbH & Co. KG is owner and operator of the windfarm, BARD Offshore 1. It is 100% indirectly held by HypoVereinsbank.