The first Integrated L-drive was delivered to Damen Shipyards VOLT PROCESSOR (Utility Vessel 4312, Remoy Management AS). In the last week of April the sea trial of world's most compact electric propulsion solution proved to be a success. All parties involved were satisfied about the results.
The VOLT PROCESSOR is a fish farm service vessel which uses 750 kW electric power to undertake delousing operations and other service at Norwegian salmon farms. The Utility Vessel 4312 platform has a length of 43.27m, a moulded beam of 12 m, a depth of 3.5 m and a design draught of 2.6 m. The deadweight and gross tonnage of the vessel are 460 t and 499 t, respectively.
The power-plant of the VOLT PROCESSOR integrates a diesel-electric configuration, housing two electric motors, two 1,030 mm fixed-pitch propeller (FPP) thrusters, a 150 kW bow thruster, two 470 ekW Volvo D16 generator sets and a 139 ekW Volvo D7 generator. The propulsion system provides a speed of 9.1 kn and a bollard pull of 10.5 to.
The decision to choose a diesel-electric configuration was easy: it provides an efficient, flexible power supply for the 750 kW propulsion installation and for driving the deck equipment when moored within a farm. Electric propulsion has the advantage to be redundant and also suitable for Dynamic Positioning.
Another challenge in relation to the VOLT PROCESSOR was the limited availability of space. "That is why Damen decided to use the Veth Integrated L-drive – this is, to our opinion, the most suitable propulsion solution", Veth General Sales Manager Martin van der Jagt explains. Because of the fact that the PM Motor is integrated in the slewing bearing, combined with the special mounting method, the alignment of the headsets and the adjustments to the control box, the Integrated L-drive is extremely compact. "In fact, the difference in height between a traditional L-drive and the Integrated L-drive is about 2 meters!"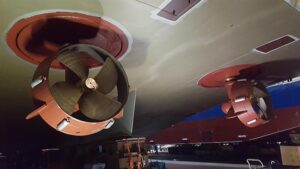 Besides space, the hydrodynamic design and efficiency are other important advantages of the Integrated L-drive propulsion. The water cooled Permanent Magnet (PM) Motor is more efficient and produces less noise than an air cooled asynchronous motor. In particular, the part load efficiency is higher. At 25% load, the improvement in efficiency with a PM Motor is 5.2%.
The Veth Integrated L-drive generates less noise, because it does not have a gear transmission in the ship. The electrical steering further reduces noise production.
"All these features, combined with proven technology, made this first introduction to the world a success", van der Jagt says. "The Integrated L-drive is available with power ranging from 300 kW to 2350 kW. VOLT PROCESSOR is the first model in a series of vessels, which will use our Integrated L-drive." says van der Jagt.
Vessels deck equipment and systems
The vessel offers a 350 m² deck area with a load capacity of 5 t/m². It can be fitted with two high-holding power anchors, a chain lifter electric anchor mooring winch, a 4.55 t Knuckle boom deck crane with a 5 t winch, two Knuckle boom cranes with a lifting capacity of 1.56 t at 19.48 m reach, and three 5 t electric capstans.
Other optional systems include winches for rope or wire, towing pins with / without a stopper, a 500 mm diameter stern roller, alternative cranes, DP-0 or DP-1 positioning package, chain clamps, capstans and side rollers.
The platform features a low freeboard, an accessible waterline on either side of the hull, a large cargo area, and removable railings for hose-handling operations. The modular design also enables the installation of a third crane, a powerful bow thruster, an additional generator set, and an ozone generator.
Additional equipment and systems can be added to the vessel to support other aquaculture activities, including installation and maintenance works.
The vessel can carry 145m³ of fuel oil, 10m³ of sewage, 25m³ of fresh water and 2m³ of bilge water.