Innovative, hybrid propulsion solution acts as cost- and fuel- effective alternative to classic, diesel-mechanical propulsion systems for higher flexibility and performance.
MAN Diesel & Turbo has won the order for a complete propulsion package for a chemical tanker. As a world-first, the package features a full HyProp ECO system with PTO/PTH; HyProp ECO is an innovative, fuel-saving, hybrid propulsion system. The system will be employed aboard a 7,500-dwt stainless-steel chemical tanker ordered and operated by IÇDAŞ Çelik Enerji Tersane Ve Ulaşim Sanayi AŞ in Turkey. The propulsion package also features a MAN 6L32/44CR common-rail main engine, an MAN Alpha Kappel propeller and an MAN SCR (Selective Catalytic Reduction) system capable of operating on MGO, MDO and HFO. A delivery date for the newbuilding has been scheduled for September 2017.
Lex Nijsen, Head of Four-Stroke Marine, MAN Diesel & Turbo, said: "For many applications, a hybrid propulsion system is a good choice, especially when flexibility, performance and efficiency are prized. In a challenging market, we are embracing innovative technology as a means to grow. HyProp ECO is a flexible and powerful system with low first-costs that offers a real alternative to a purely mechanical propulsion solution, while maintaining its benefits."
About HyProp ECO
HyProp ECO is a system solution that combines a diesel engine with a frequency-converter-driven shaft-alternator/motor and features multiple operational modes. Jointly developed by Vacon and MAN D&T, the system combines the advantages of a bi-directional operating frequency converter for the shaft machine with a high-efficiency CP propeller plant. HyProp ECO is also open for shore connection and the integration of energy storage devices / accumulators. Vacon is a global manufacturer of variable-speed AC drive systems. Its NXC drives have a proven track record in marine applications with reliable performance.
Advantages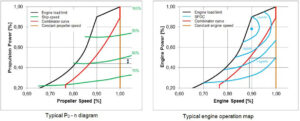 HyProp ECO's major advantage is that it enables the use of frequency converters of just 30% of the installed alternator/motor power up to full PTO power, according the ship's individual demand. This solution enables the propeller, as well as the main engine, to run on variable speed (Combinator Curve) at slow ship speeds and still use the PTO as the most economic source of electric-power generation on board. As a bypass around the converter unit is installed, the system suffers no electrical losses when the converter is not in operation. Another advantage is that the total installed GenSet power can be kept low as the HyProp converter allows a smooth start of the shaft machine in PTH-mode without a big voltage drop at the main switchboard. The result is a flexible and powerful system with low first-costs, compared to a conventional-frequency converter solution.
Quelle: MAN D&T // PP