Damen Shiprepair Oranjewerf said good-by to VOS START, Vroon's first DP2, subsea-support, walk-to-work (W2W) vessel. VOS START arrived at the Damen yard on 1 June from her shipyard Fujian Southeast Shipbuilding China for the installation of a motion-compensated gangway system – the first of its kind – by Barge Master and Bosch Rexroth, the extended installation of a Kongsberg reference system (including a 'windfarm module'), and an active heave-compensated crane from SMST. In the eight weeks that she was in the yard, the vessel also underwent a wide range of other upgrades and preparations for her first charter.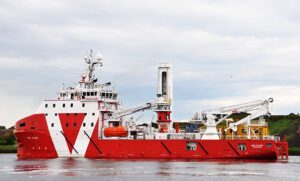 The VOS START is the fourth in a series of new vessels that Vroon has brought to Oranjewerf for finishing off following their initial build in China. However, this is the first time that Damen and Vroon have worked together on a W2W vessel and, with Barge Master and SMST both Dutch companies, it was logical to do the final installations in the Netherlands with all the necessary expertise and support close by. Other local specialist suppliers also contributed to what has been, owing to the W2W element, the most complex upgrade yet for a VOS subsea support vessel at Oranjewerf.
These specialists included Niron Staal Amsterdam, another member of the Damen Group, which fabricated two boat landing ladders which were then installed by Damen. Other equipment installed include a Lightweight Taut Wire, Radius and a Hipap position reference system, all manufactured by Kongsberg. The mountings necessary for up to eight temporary living units, supplied by H2M, were also fitted, along with many other modifications.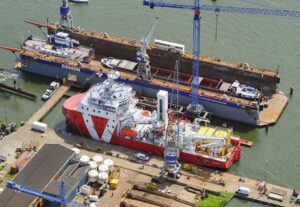 "As always, completing the works within the time allowed was a challenge," says Jeen van der Werf, Commercial Manager at Damen Shiprepair. "Detailed planning prior to the vessel's arrival ensured that no time was wasted and everyone worked efficiently and effectively. Double shifts were worked when needed and on occasions activity continued around the clock to ensure that progress remained on schedule. Our Oranjewerf is particularly well-suited for this project, due not just to the capabilities of its workforce, but also to the extensive craneage on its berths and space on the quays for the largest mobile cranes." The VOS START was also placed in the yard's 135m floating dock for a period to allow the installation of the boat landings.
A key element in the success of this project was the excellent cooperation between Damen Shiprepair Oranjewerf and Vroon, represented on-site by senior Newbuilding Superintendent Foppe Molenaar. "We returned to Damen Shiprepair based on our good experience over the years," he commented. "We bring our uncompleted vessels here as the yard has proven its ability to undertake complex work quickly and handle the last-minute surprises that are typical of these kinds of projects. The Damen yard is also very open to working with external suppliers; at times we had a lot of people working in a small area, but it all went smoothly.
"With the VOS START a lot of extra work was added during the project," he continued, "and as this is a new ship type for the Vroon fleet its progress received a good deal of attention within our company and from maritime renewable market representatives and potential charterers. So we needed a yard that we could depend on, and in addition to this we had a charter deadline to meet, so speed was essential. For us, working with Oranjewerf feels like being part of a single, integrated team and the end result has been most satisfactory."
The VOS START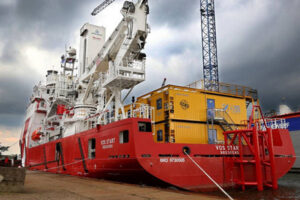 The vessel, managed by Vroon Offshore Services, is added to the existing Vroon fleet and sails on the offshore fields in the North- and Irish Sea. The vessel will provide offshore logistics support, accommodation and walk-to-work services during construction of the Walney Extension Offshore Wind Farm in the Irish Sea. With its dimensions of 80 meter in length, 18.40 meter width, a draft of 5.8 meters and a dead-weight of 2.500 tons, the complete VOS START features a gross tonnage of 4.700 to.
The VOS START offers accommodation for the client teams, office space for engineering and project managers, a warehouse to store materials and tools and an onboard workshop to prepare for day-to-day tasks. In addition to logistic and technical requirements, the vessel is equipped with a cinema, gym and Wi-Fi connection. Further to the offshore wind farm support work, the VOS support vessel is also designed for maintenance and operations projects in the offshore oil & gas industry.
In total the power of the two MaK main engines of type 8M25C supplies 2,400 kWm to the two CPP (controllable pitch propeller) rudder propellers. With these features the vessel has a maximum speed of 12 kn per hour in deep and wide water. For better manoeuvrability additional two super-silence 800 kW electric tunnel thrusters, plus one 700 kW retractable thruster have been installed. Main generators as well as shaft generators plus emergency gensets provide on-board electrical supply.