UK based Offshore Transfer Devices has developed the Tube Docking Device (TDD) which locks a crew transfer vessel (CTV) to a structure and prevents movement, meaning increased working capabilities.
"We believe the TDD will change the future of offshore transfers," said Daniel James of Offshore Transfer Devices. The ability to increase weather windows safely will prove invaluable to the competitive and increasing global growth of the offshore industry."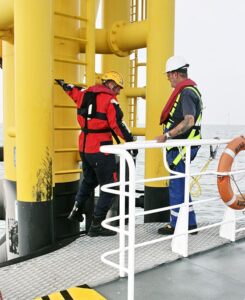 Currently, most transfers take place by crew transfer vessels (CTVs) pushing on to wind turbines using a rubber fender to try to reduce the movement between the boat and the structure. But this doesn't stop movement, especially during altered sea states.
So, the primary goal for Offshore Transfer Devices was to create a system which would enable transfers in more adverse conditions on offshore windfarms. But the TDD also has the ability to substantially increase safety in all aspects of transfers offshore including serving oil and gas rigs, pilot vessel transfers, or even when used as an additional feature utilising a light weight device to aid compensated gangways (Walk2Work).
Unique device
James said that the device has been proved to withstand adverse sea conditions, enabling a stable platform on a 15m vessel in seas of up to 2.7m. This is a substantial increase to the current 1.2 to 1.5m max wave height enforced by most offshore windfarm sites for similar size vessels.
"This will undoubtedly afford greater access and workable weather windows, resulting in increased productivity and reduced losses caused by failed transfers in conditions where conventional access fender methods are not viable," said James.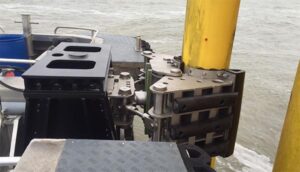 The TDD operates using jaws which take the shape of the cylindrical fender tube. It can deploy on to a tube whilst the vessel is simultaneously in a roll, pitch and off centre whilst addressing all six motions of freedom – heave, pitch, roll, yaw, sway and surge.
A vessel can obtain a higher level of grip with a proportionally reduced amount of propulsion, thus minimising pushing force required to maintain a stable platform against offshore structures.
An additional (but optional) hydraulic assistance mode can also be implemented, which operates in a similar mode to applying a brake pedal of a car. Whilst using little or no propulsion, this optional ability enables transfers to light anchored structures such as floating LiDAR's, anchored barges or jack-up vessels.
It also enables transfers in adverse weather conditions to ships under DP (where CTV's / WFSV's are instructed to push on with minimal propulsion as it can upset the mathematical model of the DP vessel). Another key feature of the system is the ability to alter the lateral position without disengagement.
Concept trials
During the first quarter of 2017, the TDD endured vigorous trials and tests at EON's Scroby Sands Offshore Windfarm with vessel operator Iceni Marine Services. The device was installed to vessel ICENI COURAGE by vessel builder Alicat Workboats and integrated and powered by hydraulic specialist Hercules Hydraulics in Great Yarmouth, UK.
Results from the OWA trials demonstrated that the TDD could hold its pivoting jaws with negligible vertical movement in wave heights of up to 2.7m with a CTV as little as 15m in length.
Offshore Transfer Devices is now looking to partner with an established marine engineering firm which can provide further expertise, venture capital and assistance in gaining global market exposure.