From YNo 1H: HOD to YNo 310: WINDEA LEIBNIZ 
Ever since its formation on 9 August 1917 in Ulsteinvik, Norway, the family-owned shipbuilder Ulstein, designer and systems supplier has focused on tomorrow's opportunities today.
In a century of operation, there isn't much that remains the same. But this commitment to embracing change – to benefit customers, the business and the wider maritime sector – has always endured.
Building expertise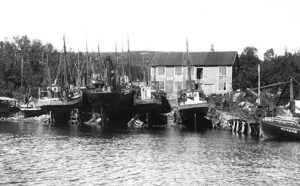 When Martin Ulstein together with his brother-in-law Andreas Flø flung open the doors to their small mechanical workshop in 1917 they had no idea what they were destined to create. Initially conceived to repair and then reconstruct wooden fishing vessels, Ulstein mek. Verksted rapidly built a workforce, competence and influence that made waves beyond the West Coast of Norway. The firm would become Martin's lifelong passion, while Andreas chose to move on to pastures new.
By 1924 Ulstein becomes an agent for Rapp engines (Rapp Motorenwerke GmbH, Munich – the later famous BMW Group) – an early start-up of equipment package deliveries.
In 1957 it made its mark as a modern shipbuilder with its first steel newbuild, the car ferry TORULF, and by 1965 Ulstein had demonstrated an ambition to extend its reach further into the maritime supply chain with the formation of Ulstein Propeller. The business was now intent on emerging as a 'package' supplier, providing both advanced vessels and equipment.
But it was the discovery of oil in Norway in 1969 that really switched Ulstein into overdrive.
The power of understanding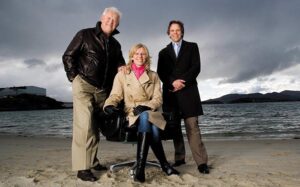 As Idar Ulstein, former CEO and Chairman of the Board, and the son of founder Martin, explained in 2007, the growing interest in exploiting North Sea oil reserves led to a burgeoning demand for offshore vessels.
"We received regular enquiries concerning the construction of supply vessels of American design," he recalled, "but we believed that these vessels would not be particularly suitable for the prevailing weather conditions in the North Sea."
An intimate understanding of this harsh environment, and how to refine vessels to tackle it, presented an obvious business opportunity for Idar and his team: "We began to develop new types of vessels in-house, splitting them into different series. Offshore vessels were in the UT700 series (UT300 denoting fishing craft). The hulls were broader and had a larger freeboard, allowing them to operate safely in rough seas."
Industry impact
This ability to innovate with design was matched by a business acumen to exploit it. Ulstein began marketing the UT series worldwide, selling designs to international shipyards and, in doing so, establishing an industry network and financial base that would facilitate rapid growth and recognition.
The company was no longer a name associated with a small Norwegian settlement; it was now a global brand in specialist ships for the most demanding operational environments.
New ideas take flight
A further example of Idar's ability to adapt and innovate was provided by the VROS development. The idea came to him in 1980 when he was walking across a runway to board a plane home.
Always on the lookout for inspiration, the retractable nose wheel on the aircraft caught his eye. His mind immediately began racing. Upon return to Ulstein he asked his engineers to construct a rotating, retractable thruster named "VROS", an abbreviation of two Norwegian words meaning rotating and retractable. Meanwhile, the Farstad shipping company had awarded Ulstein a contract for the vessel STAD ULSTEIN in which Ulstein mek. owned an 80 % share. This vessel was to be equipped with two new thruster prototypes, one of which was a VROS. The design began simultaneously with the construction of the ship. Right from its initial tests the VROS was a success, and few structural changes have been made since.
This swing-up thruster is not just an example of how existing ideas can be adopted and developed further, but of how it's possible to open one's mind to inspiration, and innovation, from the world around us.
The road to revolution
Throughout the 80s and 90s Ulstein leveraged its niche within offshore to build an international business, acquiring other firms – such as deck machinery and engine producer BMV (Bergens Mekaniske Verksted) in 1985 – and creating a sales and service network that spanned the world's key ports. Prior to the acquisition of 90% of the business by Vickers and then Rolls-Royce in 1999, Ulstein Group had grown to more than 4,000 employees, with a turnover in excess of NOK 4 billion.
Divesting itself of so much allowed the new look Ulstein Group to refocus on a core strength – providing innovative vessels and systems tailored to customers in demanding segments. And, initially, offshore was the key.
Multifunctional anchor handling vessel OLYMPIC HERCULES, delivered in 2002, was the first of a new generation of advanced Ulstein designs. However, it was in 2005 that the firm's flair for innovation truly revolutionized offshore shipping, with the advent of X–BOW®.
X marks the spot
X–BOW® demonstrated the Norwegian's ability to rip up the rulebook – creating, realizing and commercializing concepts that are unique, in characteristics, performance and customer benefits.
First seen on the AHTS BOURBON ORCA in 2006, the X–BOW® hull design gives vessels reduced pitch motion and, therefore, increased comfort – minimising movement from waves and bow impact – greater performance in rough weather, and optimized fuel efficiency. In fact, the unconventional shape of the hull reduces power consumption by 7-8 per cent compared to vessels with traditional hull lines.
The critical reception of X–BOW® was one thing, the commercial one another. By 2015 over 100 X–BOW® designs were sold around the world, showcasing how even the most bold ideas can be accepted into the mainstream if they deliver the benefits to match their ambition.
Inspiring development
Inspired by this success, and driven by the desire for continuous improvement, Ulstein has now created X-STERN®.
This concept transfers the X–BOW® benefits to the aft of the ship. In doing so it provides reduced pitch motion, increased flexibility, extended operational windows in bad weather, improved crew safety, and reduced fuel consumption, with lower environmental emissions. It marks a full circle evolution of the X hull design and is particularly suited, although not limited, to the blossoming offshore wind segment.
The first X-STERN® delivery was made on 23 June 2016 with the SOV (Service Operation Vessel) WINDEA LA COUR setting sail.
The company's move into offshore wind is indicative of a history built on adaptation and knowledge transfer. The firm is always looking for the next opportunity where its expertise and evolving product and service portfolio can deliver customer advantage. As such wind, with its obvious similarities to the offshore oil and gas sector, is a growth market, while cruise, yachts and RoPax, where Ulstein's design innovation and shipbuilding pedigree can deliver added value, are seen as future development drivers.
Unlocking opportunity
But the company isn't just focused on steel. The digital revolution has transformed life on land and is sweeping over the seas, with increased system technology, management systems and automation paving the way for a truly connected shipping industry.
Ulstein aims to emulate its position at the vanguard of ship design with developments in vessel technology, using its X-CONNECT® architecture as the platform for on-board products such as ULSTEIN IAS and ULSTEIN PMS, connected to digital and autonomous systems.
X-CONNECT® provides a cornerstone for current and future systems. It unites them on a single platform and gives on and offshore teams the data they need to make decisions enhancing operations, environmental performance, business efficiency, and stakeholder value, not to forget feeding back into new generations of Ulstein designs.
The concept connects systems, data and people, but also, as group CEO Gunvor Ulstein and Chair of the Board Tore Ulstein notes, declares Ulstein's intention to be as relevant to the industry for the decades to come as it has for those in the past.
Defining potential
"The future market is as difficult to predict in 2017 as it was in 1917," the two note. "The only constant through the years is change, and we expect that change, driven by continual digital development, will accelerate into the future.
"Shipping businesses that fail to keep pace with that will be left behind, while those that engage with change – driving it wherever possible – will always be at the forefront of the industry when it comes to answering customer needs and satisfying market demand.
"We're proud that our first 100 years have had so many defining moments, for ourselves and the industry, and, through a combination of delivering future-ready products and services, expect the next 100 to hold many more.
"We've come a long way from that small workshop in Ulsteinvik," they conclude, "but our focus now is on where we're going. And where, with the right blend of experience and industry insight, we can take our customers in the future."