Tanker industry is very exciting and interesting. Read and enjoy the following facts.
The first tanker based superyacht
An Austrian yacht design firm called "MOTION Code: BLUE" has unveiled a new superyacht concept that is based on the size and shape of a suezmax tanker. The new yacht concept called "Imara" and will measure 280 meters long with a hull shape based on the dimensions of a Suezmax tanker. The Suezmax can typically carry about one million barrels of oil and it is named as being the largest oil tanker capable of transiting the Suez Canal fully laden. Therefore it makes this design the world's biggest yacht concept. The level of personal comfort on a boat of this size would be unprecedented: on board will be located three helicopter pads, to plant palm trees, organize theater. This is not to mention the numerous recreation rooms, terraces, review sites, bars, spaces for concerts and parties, as well as special electric vehicles, which should help the owner of the vessel to move on such a vast possessions.
Black Gold Project
Have you heard about this recent project based on an old oil tanker which turned into a promenade? A group of architects with the name "Chris Collaris & Teams" created a project of transformation of the old oil tanker as a modern place for coastal holidays. The project involves the use of an old ship as the basis for a modern place to relax, work and entertain. The tanker will be moored off the coast of one of the countries of the Persian Gulf. At the same time its interior was transformed into a multifunctional complex, which will place. Another interesting point is – through the body of the old oil tanker from shore to shore path for walks will be conducted, which in some places will be located on the bridge piers. Multifunctional complex Black Gold Project is conceived not only as an ideal place to relax, work and shop, but also as a monument to the evolution that is taking place in the economies of the Persian Gulf countries. Nowadays they are not making money solely from the production and sale of oil but they are increasingly investing in the development of new industries, including tourism.
M/T Knock Nevis (ex Seawise Giant): The largest Tanker ever built
Can you guess how big, the largest tanker ever built is? Even longer than the Empire State building! This is the M/T Knock Nevis (ex Sea Giant) which is an ULCC built in 1979 by the Japanese shipyard Sumitomo Heavy Industries, Ltd and had a deadweight of 564,763 MT and a length of 458.45 meters. This was a real monster! Due to her large size and the deep draught, she was not able to transit the Panama Canal or the Suez Canal. The M/T Knock Nevis was sunk during the War of Iran-Iraq, but she was later salvaged and restored to service, while during the last years of her life she had been used as a floating storage and offloading unit off the coast of Qatar in the Persian Gulf. The vessel was broken up for scrap in Alang, India during 2010 at an age of 31 years old. Since such ULCC tankers are uneconomical, not new ships had been built at such size since the beginning of the 1980s until the Greek Hellespont ordered four double-hull supertankers in 1999. These ships were delivered in 2002 and 2003 as the M/T Hellespont Alhambra, M/T Hellespont Metropolis, M/T Hellespont Tara and M/T Fairfax which all of them had deadweight of more than 441,500 MT each. These vessels which were then sold to Overseas Shipholding Group and Euronav in 2004 are as of 2010 (when the Knock Nevis scrapped) the world's four largest working supertankers.
M/T Ternsund: An LNG powered tanker
We everyday hear in the news about the efforts to replace engines and fuels with more environmentally friendly types. The world is becoming environmentally sensitive and so does the tanker industry as well. Have you heard about the new LNG powered vessels or even the solar powered vessels which are designed and built? The 15,000 deadweight tanker Ternsund was handed over to its Swedish owner by the Chinese shipyard Avic Dingheng Shipbuilding yard on June 27th 2016 and it is considered as one of the most –if not the most– environmentally friendly oil tankers in the world. This is an LNG-powered ship, energy efficient and environmentally friendly with solutions to minimize harmful air emissions and is a result of the EU co-funded project "Into the Future – Baltic SO2lution". The project is part of a cooperation between the vessel's shipowner Terntank, engine maker Wärtsilä, fuel and bio-products supplier NEOT (North European Oil Trade) and energy and environmental consultant Wega under the Zero Vision Tool. Four sister vessels are about to be delivered by the shipyard Avic Dingheng Shipbuilding.
Recycling Oil Tankers can be really hazardous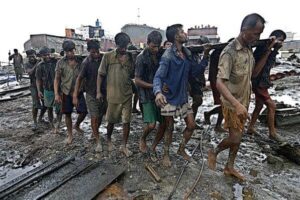 We are sure you already know the role of demolition in the shipping industry and its importance for the maritime economics and shipping cycles. However, can you imagine how hazardous can be breaking up a ship which carried for so many years petroleum or even chemical products? Recycling of ships in the developed countries is strictly regulated and very costly. Therefore this dirty work is mainly done in Bangladesh, India and Pakistan. This is one of the most dangerous professions in the world since each tanker can constitute of mass toxic, dangerous chemicals and asbestos which can cause lung cancer.
Even in the empty tanker, there are thousands of tons of oil sludge from a mixture of oil and sand and rust, which cannot be easily pumped. The electrical system of the tanker contains tons of polychlorinated biphenyls which are carcinogenic liquids. At any tanker, there are tons of hazardous heavy metals – lead, cadmium, zinc, mercury while on the bulkheads and other structures up to 7 tons of asbestos. In the cooling and air conditioning systems can be up to 12 tonnes of CFCs. Also the underwater part of the vessel is covered with an antifouling paint based on tributyltin, a toxic substance that interferes with corals, algae, crustaceans and mollusks settle on the bottom. After all, can you imagine how much amount of dangerous substances will exist in the beaches of Chittagong and how much oil sludges are thrown in these seas?
M/T Exxon Valdez: The worst accident which changed the tanker Industry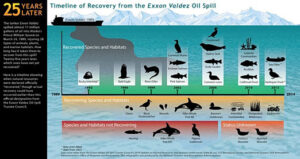 When such monster ships carry hazardous products like oil, the environmental risks are very high and of course many accidents have occurred during the tanker history. We are sure you have heard of such events in news from time to time. The greatest of these tanker accidents occurred on 24 March 1989 when the tanker Exxon Valdez grounded in Prince William Sound of Alaska, rupturing its hull and spilling nearly 11 to 38 million US gallons of crude oil over the next few days into a remote and biologically productive body of water. A really big environmental disaster! The Exxon Valdez oil spill was the largest in US waters until the 2010 oil spill of Deepwater Horizon, in terms of volume released. Also the inaccessibility of that area made it even more difficult in order for protective measures to be taken and the environmental disaster was heavy. It is worth to note that about 38,800 tons of oil were drained which is the equivalent of 125 Olympic swimming pools. As of 2010 approximately 98 cubic meters of crude oil poured out from the Exxon Valdez which still pollutes the Alaska area. The Exxon Valdez incident was the cause for the Oil Pollution Act 1990 which along with the MARPOL Act regulated the phase out of single hull tankers and the obligation for all tankers to be built with double hulls. After her accident, Exxon Valdez has also been a Hollywood star! Did you know that the final scenes of the movie "Waterworld" take place on the tanker Exxon Valdez?
How much time it needs a loaded supertanker to stop while sailing at normal speed?
Did you know that it takes about 20 minutes for a fully loaded large tanker to stop when heading at normal speed? It sounds like a long period of time for such movement, doesn't it? And what if an emergency situation occurs, someone asks. In this case, some tankers can have a "crash stop" maneuver, which can reduce the time down to about 15 minutes however the time still remains high. The reason that it take so long to stop is the huge amount of momentum these vessels build up as they sail. Because of this huge, most large tankers turn off their engines about 15 miles (25 km) away from their stop point (anchorage or berth).
The first commercial oil well
Do you know how everything begun in the oil industry? On 28 August 1859, George Bissell and Edwin L. Drake made the first successful use of a rig on a well which was especially drilled to produce oil, at a site on Oil Creek near Titusville, Pennsylvania. Despite the fact that it is not very clear which is first oil well in the history and wells in Azerbaijan, Ontario, West Virginia and Poland claim this title as well, it seems that the Drake well is often referred to as the "first" commercial oil well. Also, before the Drake well, other oil-producing wells in the United States were wells that drilled for other products and produced oil and gas accidentally as byproducts. Furthermore, an intended drinking water well at Oil Springs in Ontario found oil one year earlier, in 1858, but it had not been drilled for oil. Further to the above, have you ever heard before that the oil barrel measurement was originated in these early Pennsylvania oil fields, where the oil products were stored and transported in wooden barrels?
From Sailboats to modern tankers – From barrels to bulk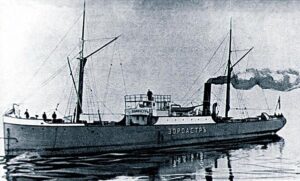 We are sure you have already seen some sailboats at seas. Now imagine such sailboats to carry oil! Yeah, sail-driven tankers were the first vessels built to carry oil in wooden barrels. The first such ship seems to be the Elisabeth Watts in 1861. By 1861 oil was moving by barges along the Allegheny River to refineries in Pittsburgh and the kerosene was being shipped in barrels by rail. The first seaborne cargo was on 19th November, 1861 when the 224 tons Elizabeth Watts was chartered to load about 900 barrels of crude oil and about 430 barrels of kerosene. The carriage of oil in barrels was not satisfactory since the barrel itself accounted for a considerable weight and also barrels were vulnerable in leakages and could only be carried one way. Since the oil quantities and trade flows were increasing and distances were becoming longer, more efficient ships were required and after years of innovations and efforts the first steam-driven tanker which was able to load oil in bulk was built. Her name was Zoroaster and she put into operation in the year 1878. The Zoroaster had been ordered by "Branobel" Oil Company, had been designed by Ludvig Nobel (business partner and brother of Alfred Nobel, founder of the Nobel prizes that everyone know!) and built by a shipyard in Sweden. The vessel was built with steel while her tanks were built of iron. At that time, the M/T Zoroaster was quite technologically advanced (she burnt a type of fuel oil instead of coal to power her steam engine), she measured 184 feet long with a 27-foot beam and 9-foot draft and she could carry 242 tons of kerosene. After the Zoroaster, another 8 single hull tankers were ordered by Branobel however all these tankers were really small, utilized for short sea trades only. It took about 25 years of experimentation from the first sail-driven tanker before the first satisfactory ocean going tanker, the 2,318 GT, Gluckauf, was delivered during the 1880s. Subsequently, by 1950 3.6m bpd of oil was shipped and the average tanker had grown to about 15,000 dwt.
Oil Rocks – Oldest offshore oil platform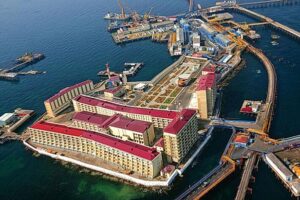 Do you know the story of Oil Rocks which is a major milestone in the development of the oil industry? It is also part of the Guinness record book as the oldest offshore oil platform worldwide. Everything commenced on 14 November 1948 when the towboat Pobeda was moored to the rocky groups of islets called Black Stones, about 42 km southeast of Absheron Peninsula, which then renamed Oil Rocks (or Neft Dashlari in Azerbaijani). Geologists and Drillers successfully landed on the islet and thereafter in 1949 a unique oil deposit was discovered in the area while the works on the first exploratory well began in June 1949 and It was a major milestone in the development of the country's as well as the world's oil industry. The deposit had to be extracted from the open sea, up to 100 km from the coast and state of the art infrastructure was required in order to make this happen. The second well drilled was handed over for operations during the first half of 1950 and produced approximately the same daily flow as the first. In constructing a drilling base for the second well, seven redundant ships were flooded, among them the Nobel steamship Zoroaster which was the first modern tanker ever built. Thus was born the artificial Seven Ships Island, which was extracting oil six months later. Consequently, in the place of stony islet was built an artificial island with an area of 7000 hectares. At that time, Oil Rocks was the world's largest offshore oilfield, both in terms of deposit capacity and volume of oil extracted.
It is to understand that the tanker market is a very demanding sector and everybody is ready to offer Shipbrokers, Owners and Charterers an exciting experience and new business opportunities in the online marketplace. While most of the current users are mainly involved with the dry bulk sector, which is now under pressure and thus Shipowners and Charterers are looking for new opportunities and new clients, OpenSea also cover the various tanker markets and offer professionals the opportunity to post their tankers' opening position or available liquid cargoes and find matching business. Everybody is most welcomed to create a free account and add new inquiries right now.
Beitrag: Maritime Cyprus/PP